Fully Managed Cloud Services
You use the Cloud every day and might not even know it. Isn't it time you move your business into the future?
What is a Cloud Service?
A Cloud service is basically any service or system that is running outside of your office and that you access over the Internet. This is in comparison to a system that is running locally on hardware that you physically have in your office such as a server.
Why Choose SIS Cloud Services?
All SIS Cloud Services are fully managed and operated by us (with the exception of Microsoft Office 365 Cloud E-Mail). This means we have complete control over the services as well as allows us to guarantee their availability and reliability.
The fact that there are no third parties to deal with means you can have piece of mind knowing your data is secure with us and not being outsourced.
What Is SIS Cloud VoIP?
SIS Cloud VoIP brings your telephone system to the digital age. By utilizing our Cloud based Voice over IP system we are able to provide you with an enterprise level phone system without you needing to purchase any expensive hardware. This makes the system incredibly flexible as all you need is an Internet connection and a VoIP telephone and you are fully connected!
Why Choose SIS Cloud VoIP?
We understand that what it all boils down to is the quality of service you receive. We could go on listed all the features we provide but really matters is the system works, not only that it works exactly as you need it to work.
We fully manage the Cloud VoIP system for you which means you never have to worry about unexpected charges or support costs. Our job is to make sure your telephones are functioning and we will do whatever it takes to make sure that happens.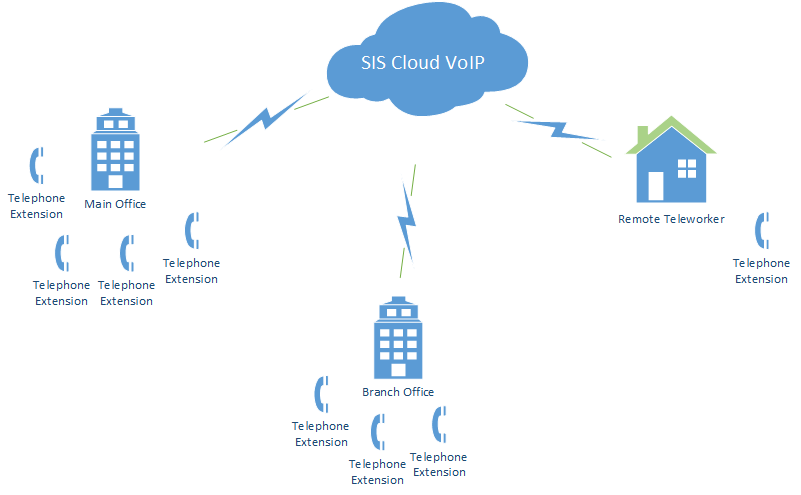 Features
All features of the SIS Cloud VoIP system are included, there's no need to pick and choose:
Unlimited technical support
Unlimited Canada and continental US calling
Call fowarding, call display, conference calling
Auto Attendant (voice prompts)
Voicemail to E-Mail
and many more!
What is a Cloud Desktop?
A Cloud Desktop is a fully functional computer system that resides entirely in the Cloud. What this means is that you are able to access a desktop remotely from any device and from any Internet connection giving the experience of using your office computer without actually needing an office computer!
This means you can Bring Your Own Device (BYOD) as no custom configuration, applications, or files are ever stored locally. Any device can be used to get the full experience as long as it is connected to the Internet.
Why Choose SIS Cloud Desktop?
The SIS Cloud Desktop system represents the future of computing. No longer are you tied to your laptop, desktop, and server at the office.
Your entire IT environment resides in our secure Cloud environment which allows you and your business to operate from anywhere without needing to worry about maintaining any hardware or servers. The Cloud Desktop environment is compatible with all major devices meaning there is no need to upgrade any existing hardware. As long as you have a reliable Internet connection we take care of the rest.
Simply put the SIS Cloud Desktop system provides you with the most cost effective long term solution. We take care of everything, so you can get down to business.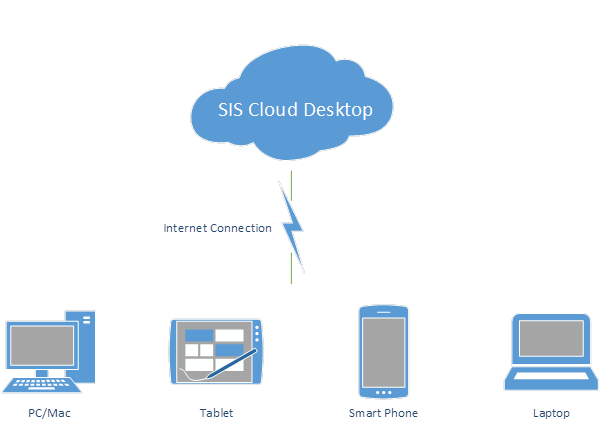 How does it work
The beauty of an SIS Cloud Desktop is how simple it is. Once setup your entire IT environment will look something like this:
Effectively this means all you need is any Internet enabled device (which you most likely already have) and an Internet connection, there is no need to worry about expensive on-site hardware and more importantly no need to worry about securing your information as it is all stored in our wholly owned and operated Cloud environment.
How it Works
SIS Cloud Backup is a very simple system. The Cloud Backup agent is installed on your device (typically a server), the agent is configured to backup critical files, and the file are sent to our secure backup servers. As long as your Internet connection is on the backup agent is sending data to the Cloud:
Why Choose SIS Cloud Backup?
Unlike other Cloud Backup services we guarantee the availability of your backup data! That alone is enough to put us above and beyond the competition. The SIS Cloud Backup system, like all of our other cloud services is fully managed and supported which means we help in getting the system up and running as well as monitor it to ensure it's always running properly. The whole point of a Cloud Backup solution is to make sure your data is protected no matter what happens, so we are here to make sure you don't have to worry.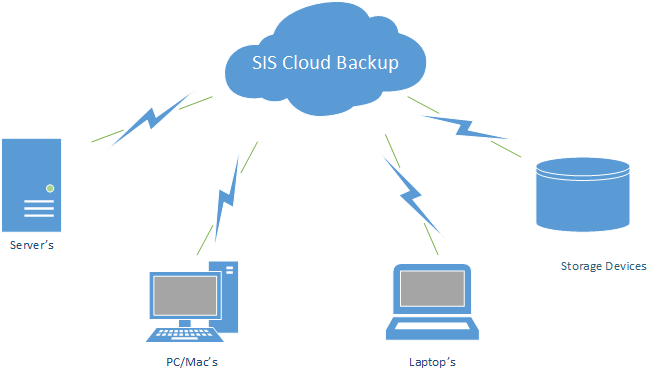 Features
Features of the SIS Cloud Backup system include:
Unlimited data backup capacity, no per GB prices!
All data is stored within Canada
Up to 3 versions of backup files stored
All backups are encrypted with military grade encryption
Fully managed service, all support is included!
Our Cloud Email Solution
Our solution utilizes the industry leading Microsoft Exchange Server e-mail and collaboration service. Depending on your business requirements we either work with Microsoft directly deploying their Office 365 service, or setup a dedicated e-mail server for your business within our datacentres.
Both solutions share a common trait, they are run in highly available datacentre environments so you don't have to worry about your e-mail being accessible or not.
What is Cloud Email?
While all e-mail is technically cloud based what we mean by Cloud E-Mail is using a cloud based e-mail server instead of running your own server within your office.
Traditionally you would run a server in your office and that server would also provide you with e-mail for your business' domain name. Given the importance of e-mail and the quick responses many have come to expect, if for whatever reason your e-mail is unavailable this can be detrimental to your day to day operations.
By moving your e-mail server to the Cloud this effectively removes the worry of your e-mail ever going down as even if your Internet is down at the office your e-mail will still flow through the Cloud and to your mobile devices.
Features
All of the Cloud E-Mail solutions we offer feature the following:
Secure e-mail storage based on the Microsoft Exchange e-mail messaging system
remote access from any Internet connection
full synchronization across multiple devices: laptops, desktops, tablets, mobile phones
SPAM filtering rated to 99% effectiveness
>99% up time guaranteed
What can a Cloud Server do?
A Cloud Server is incredibly flexible and can be configured to do anything your on-site server can do. Typical scenarios include:
Providing remote access to branch offices
Replicating an on-site server for backup and redundancy
Running a line of business application that needs to be available 24×7
Hosting a public facing website/web app that requires high bandwidth not available in the office
We work with you to determine the best way to approach utilizing a Cloud Server and then custom tailor the solution to your needs.
Why Choose SIS Cloud Server?
A Cloud Server is an excellent way to dip your feet into a the Cloud environment as it can integrate seamlessly into your on-site infrastructure.
If you already have a fully functional server running in your office but are looking to expand it's capabilities to allow for more reliable remote access for employees or clients a Cloud Server is the right choice for you.
We are able to tightly integrate with your existing environment to an extent where the transition from the Cloud to the local server in seamless. This means you and your employees do not have to work any differently than you are now, yet you can reap the benefits of having a highly available Cloud server at your finger tips.
Simply put the SIS Cloud Desktop system provides you with the most cost effective long term solution. We take care of everything, so you can get down to business.
CLOUD MANAGEMENT & SECURITY
How it Works
The SIS Cloud Management & Security system works via an agent that is installed on your devices. The agent the communicates over the Internet to our Cloud Management servers and from there a web console provides full overview of all devices.
No on-site hardware is required as it is just a matter of installing the agent and then you're all set!
How can you benefit?
SIS Cloud Management & Security if full management application service for your PC's, Mac's, Tablets, Mobile Device's and Servers.
By installing our management agent on your devices you can have fine grained control over each device for auditing, management, and support purposes.
The Cloud Management system also includes Anti-Virus and Anti-Malware protection meaning no centralized server is required to monitor and maintain your system's security as it is all handled by our web based console that can be accessed from anywhere!
SIS Cloud Management & Security is included with all of our Managed Service Plans.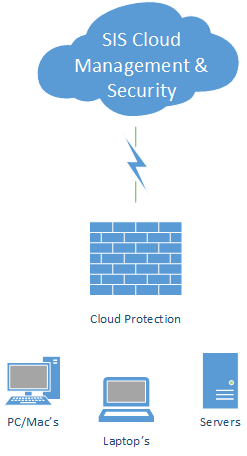 Features
One of the best features of our Cloud Management & Security system is that it can be customized to monitor your systems exactly as needed. Here are some common features:
Up time monitoring
Resource (CPU, Disk space, RAM) monitoring
Application monitoring
Remote assistance
Centralized Anti-Virus and Anti-Malware
Application control and installation
Schedule a FREE On-Site Consultation Now!
You are here because you have questions so why beat around the bush?
Contact us to schedule a free on-site consultation and we'll help your business get back on track.